Order Online

Business hours:
Closed Mondays
Lunch: Tuesday-Friday 11:30 am - 2 pm
Dinner: Tuesday-Thursday 5 - 8 pm
Friday-Sunday 5 - 8:30 pm
Committed to the health, safety and well being of our guests and staff. Health guidelines will be strictly enforced.

Face masks required at all times unless you are eating/drinking.
Keep 6 feet distance from others.
Dining time is limited to 90 minutes.
Maximum 6 guests per party; same household member.

We are open for PATIO DINING (dinner service only)
Take-out and Delivery

To assure we are able to accommodate you,
we recommend advance reservation.
626.799.8543 or helloobasushi@icloud.com

ENJOY YOUR DINNER
The Oba family greatly appreciates your understanding and cooperation!

*Alcoholic beverages that are packaged by this establishment are open containers and may not be transported in a motor vehicle except in the vehicle's trunk; or, if there is no trunk, the container may be kept in some other area of the vehicle that is not normally occupied by the driver or passengers (which does not include a utility compartment or glove compartment (Vehicle Code section 23225)).  Further, such beverages may not be consumed in public or in any other area where open containers are prohibited by law.
---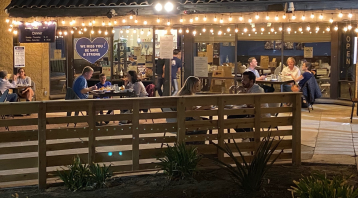 Popular Dishes
---
Crispy Rice

Crispy fried sushi rice topped with spicy tuna or crab mixed; drizzled with spicy mayo, sweet eel sauce & green onion

$7.75

Richie Rich Roll

Inside - house special spicy tuna mix, sesame seeds Top - tuna, yellowtail, avocado, lemon rind, chili ponzu sauce & green onion

$16.75

Tempura Entree

Shrimp & vegetables tempura served with soup, salad & white rice

$17.75

Eggplant Miso

Skinless eggplant sautéed with homemade miso paste sauce

$6.95

Yellowtail Jalapeno

Thinly sliced yellowtail topped with yuzu & jalapeno

$16.00

Popcorn Shrimp Roll

Inside - popcorn shrimp tempura, jalapeno, spicy mayo, sesame seeds Top - homemade sweet & spicy sauce & eel sauce

$16.75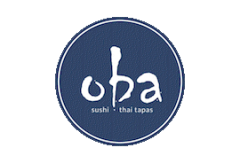 About Oba Sushi Thai Tapas
---
We offer traditional and fusion sushi, sashimi & rolls including seasonal selections from Japan. Our menu features Japanese and Thai entrees and small plates as well as Japanese premium sake, beer, whiskey and cocktails. Our team has worked together for many years at various restaurants and are dedicated to providing great food and attentive service at a reasonable price.
Her-story. His-story.
Kunche was a manager of a successful Japanese restaurant, while Alfonso was assistant to dozens of Japanese sushi chefs. They both could not be promoted. Kunche for her gender and Alfonso for his race. They decided to break the glass ceiling by teaming up and bringing you Oba Sushi and Thai Tapas.
Cuisines: Japanese, Thai
Serving: Pasadena